Making smart events simple.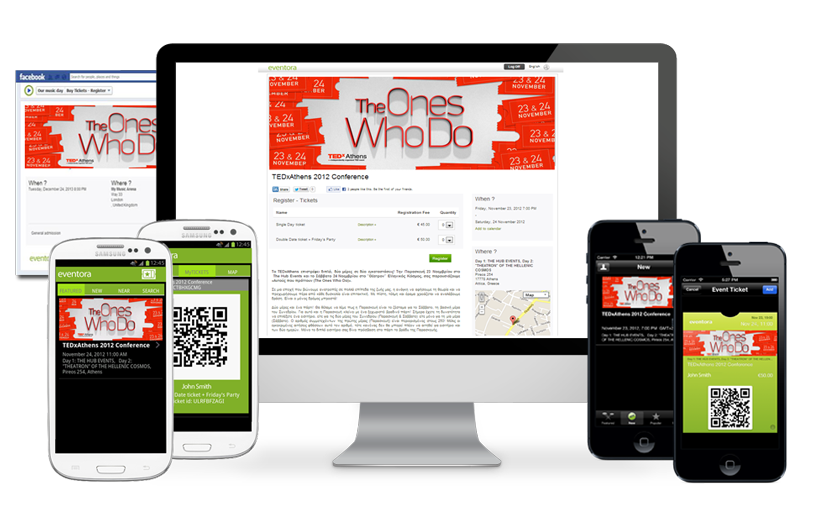 Get more registrations.
Web. Simply customize your registration form and embed in your website. Or, use the event page we generate.

Facebook. Embed registration form in your Facebook Page to provide a seamless experience to Facebook users.

Apps. Embed in your app and let users register right from their smartphone.
Or, let us create an app for your events.
Collect fees instantly.
Receive card payments directly in your PayPal or Stripe account.
Use your own bank merchant account to process card payments
(available for selected banks).
Conferences
Tradeshows
Brands
Social, Music, Sports.
Promote your brand and sponsors.
Give your guests a VIP treatment.

Your brand on etickets, badges, emails.
Send personalized RSVPs to your guests.

Amazing fast check-in.
Goodbye waiting queues.
Use Eventora Scanner app or just tap a button in your browser.
Check-in attendees in the blink of an eye.

Teamwork.
No more emails back and forth, no late night calls.
Invite your colleagues and external partners to help manage your event.
Collaborate and share reports.


TEDx events
Review applications to attend.
Sell tickets on web, Facebook, apps.
Generate branded badges
Keep in touch with attendees.
Read more: Eventora for TEDx.

Conferences
Get registrations and collect fees instantly.
Personalized communication with attendees.
Add value for sponsors.
Generate branded badges
Abstract submission and online review.


Events for brands
Promote brands and sponsors.
Send mass, personalised RSVPs, tickets, follow-ups.
Assign seats to your guests.
Check-in your guests.
For public or private events.
Smart-manage your event.
Offer more to your sponsors and attendees.
Branding
Your or your sponsor's branding on etickets, badges, invoices, emails, RSVPs.
Embed
Embed in your website and your Facebook Page for a branded registration experience.
Public or private
Accept registrations from all, or only from your RSVP list.
RSVPs
Send branded, personalized RSVPs. Specify number of guests allowed per RSVP.
Passbook
Guests add your branded etickets to Passbook.
Badges
Generate branded badges PDF. Print before the event or onsite. Or, let your guests print their badge at home.
Collect money
Accept card payments directly to your Stripe or PayPal account.
Seating
Let your attendees choose their seat. Assign seats to your guests and VIPs.
Select attendees
Review applications to attend and select attendees based on their profile.
Collect data
Insert your own fields and questions in registration form.
On site
Get onsite registrations, print badges and tickets.
Emails to groups
Send personalised messages to attendees and groups.
Contests
Create contests, embed in your website and Facebook Page. Assign entries to reviewers for online review.
Abstract management
Receive abstracts. Assign topics to reviewers for online review.
Lead generation
Offer lead generation service to your exhibitors and sponsors. Use smartphones to scan badges or tickets.
Check-in
Check-in fast with laptops or tablets and use smartphones to scan tickets.
Welcome Display
Personally welcome guests on big displays as they check-in.
Email delivery report
Get delivery reports for RSVPs, tickets and more. Make less follow up calls.
Used worldwide.
Available for all countries.
Already used in 30 countries, and counting...

Powerful, yet simple.
Receive registrations, collect fees, promote your brand.
Ready in minutes. Get started now.
Try Now
Free trial for 14 days
No credit card required
Eventora Limited is registered in England with company mumber: 09579078