Organizing an event?
Start accepting registrations in minutes.
Get registrations on web, facebook, smartphones. Promote, send RSVPs. Check-in attendees.
Eventora provides all the tools for a succcesful event.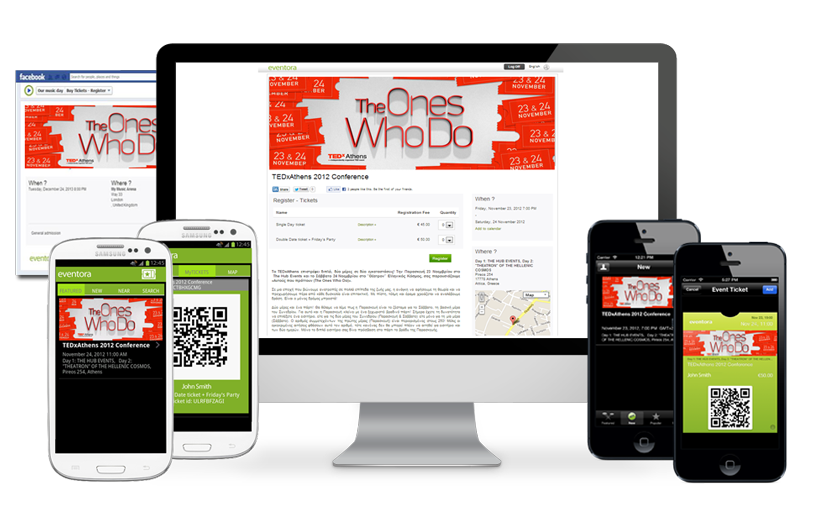 Conference registrations.
Online abstracts review.
Card payments.


Registration fees directly credited to your bank merchant account or PayPal account. Or, use Eventora's payment processing.

Sell tickets on your Facebook Page.
Collect money directly to your PayPal account.

Offer a seamless experience to your Facebook fans. Start selling tickets right from your Facebook page, website and apps. It takes just one click.


Fast check-in.

Send e-Tickets to save in phones, add to Passbook, or print at home. For check-in, scan e-Tickets with free Eventora Scanner app. Or use tablets and laptops to check-in attendees.
Download Eventora Scanner app free.
Welcome & Sponsor Displays.
Welcome attendees personally on big screens as they check-in.
Display sponsor logos and banners.

For TEDx events
Review applications to attend. Sell tickets on web, Facebook, apps. Be in touch, check-in attendees. Read more: Eventora for TEDx.

For conferences
Abstract submission and review system.
Custom registration form.
Collect registration fees instantly.


For any event
Promote on social networks.
Collect registration fees instantly.
Be in touch with all participants.
Great for any event, big or small: conferences, seminars, workshops, social, music, sports...
Used worldwide.
For any type of event. By organizers all over the world.
Receive registrations and collect money in minutes. Get started now.